If you haven't already checked out Lindsay's blog
Pixies and Bears
, and her
etsy shop
of the same name, you need to.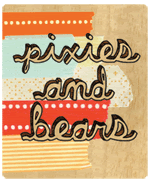 Although I don't know her personally, anytime I've purchased from her or had blog conversations with her, she's always so lovely and is the kind of person that makes the blogger community so great. I thought this previous to today, but was reminded again when I received the plushies I ordered from her in the mail.
The packaging was sweet, she pays attention to detail, she's kind and the product was better than I even pictured.
I should mention that I bought these little guys because Lindsay was having a SALE! I think the sale is over, but you should still check her shop out.
Like look at this fawn? I want one of these little ladies SO BADLY!
And!!!! I don't even get to keep the elephant or whale even though they look fantastic with my things, because I bought them for Christmas presents (I'm making a sad face here).
Then look what she included! - lip butter from
Nioi
. It has a great texture going on. I really, really like it and would definitely buy it in future- which will be very soon because I keep putting it on. I nearly ordered more tonight as a matter of fact. It's that GREAT! So far, my favourite is Asian Pear. Sooooo yummy! (Not that I ate it, but you get the idea).
All of this amounted to a very happy customer!
(see the happiness? Although my hand looks weird and this photo is really cheesy, but just go with it, please!)
Shhhhhhhhhhhhh! I think I might keep that elephant. My little cousin will never know the difference.
xo
Oh wait, I almost forgot, here's some prezzies I made for my bff and her husband.
A tshirt with our inside joke